LAGUNA SAN RAFAEL FOR THE DAY
An experience that can not be missed!



We help you to better organize your visit to the Region and in particular to the beautiful Laguna San Rafael. We offer day trips to the San Rafael glacier aboard a catamaran which departs from Puerto Chacabuco.



The catamaran sails west to enter the Aysén Fjord and continues south through the channels and through the Témpanos River. At noon you will arrive at the San Rafael Lagoon, from where you will be able to get closer in a zodiac boat to the ice floes, getting as close as possible to the wall of the glacier.



You will be able to enjoy the unique and unforgettable experience of photographing this imposing wall, from which, from time to time, huge ice blocks emerge.

The catamaran sails back to arrive at 21:00 hrs. in Puerto Chacabuco. The excursion includes breakfast, aperitif, lunch, afternoon snack, open bar, entertainment and a toast with whiskey and millenary ice.



Total distance traveled: 600 kilometers, round trip.

Duration: full day

Optional: round trip transfers from Patagonia Green to the boarding point.
Dates of the excursion:
Year 2018

February: 9-10-11-12-15-17-18-19-23-24-25-26

March: 2-3-5-9-10-12-16-17-19-23-24-26-30-31

April: 2-6-7-9-13-14-16-20-21-27-28-30

May: 4-5-11-12-18-19-25-26

June: 2-9-16-23-30
San Rafael Lagoon National Park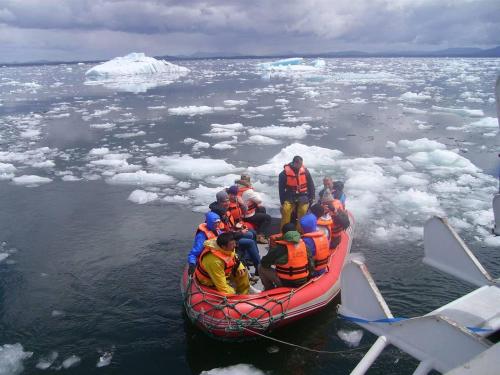 The Laguna San Rafael National Park covers an area of ​​1,742,000 hectares and was declared a World Biosphere Reserve in 1979. The park includes the entire Northern Ice Fields (440,000 hectares) where several glaciers originate, including San Quintín, San Valentín, Leones and San Rafael.



The San Rafael Glacier, with a total length of 45 kilometers, an advance front of two kilometers wide and 50 to 70 meters high above sea level, flows into the lagoon of the same name.



The melting of the base of the glacier causes the detachment of large blocks of ice, which are floating on the waters of Laguna San Rafael, which has a total area of ​​170 square kilometers.
Tips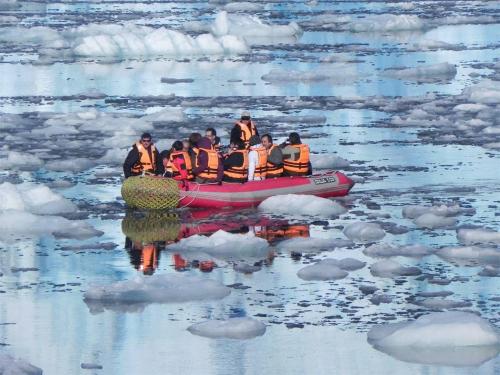 What clothes to wear?
It is advisable to wear clothes resistant to cold, rain and wind. It can also happen that the day is very sunny so it is recommended to wear sunglasses and a good protective cream high protective factor.
What other activities to do and what else to visit?
There are many wonderful places in Aysén to know and varied activities to do: Queulat Park and Hanging Snowdrift, Cerro Castillo and Marble Chapels, Aikén Park with roast lamb, horseback riding, kayaking, among others.
For more information, rates and reservations
CLICK HERE
or write to
patagoniagreen@gmail.com